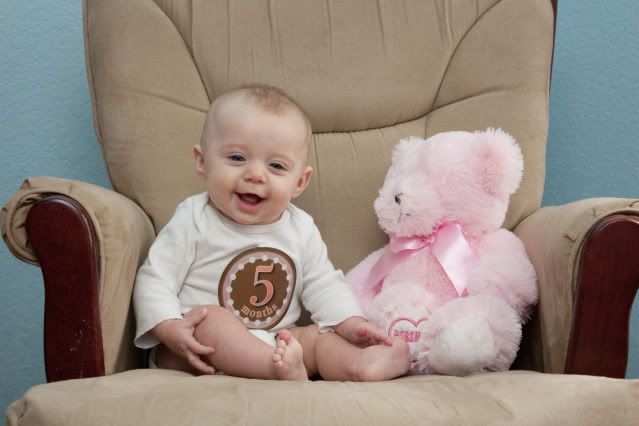 Molly is 5 months old today! I made an attempt at some pictures this morning and a combination of a squirmy baby and bad lighting made it difficult. I think I got a cute one though. Let's take a look back at her previous month pictures [do you like my alternating sides? I didn't do that intentionally, I take pictures on both sides each session and pick the best one]...
Molly weighs 13lbs 8oz and is 25.5 inches long. To give you an idea of how different Brooke and Molly are turning out to be, Brooke weighed 13lbs 2oz and was 23.5 inches long. Let's do a picture comparison here too...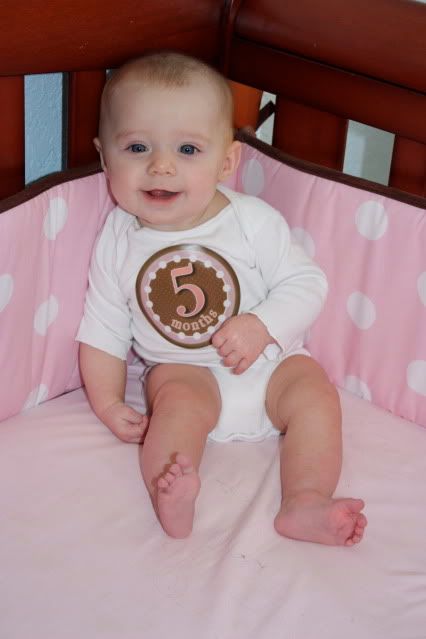 I'd say they look pretty different to me! There is something there that makes them similar, I just cannot pinpoint what it is yet.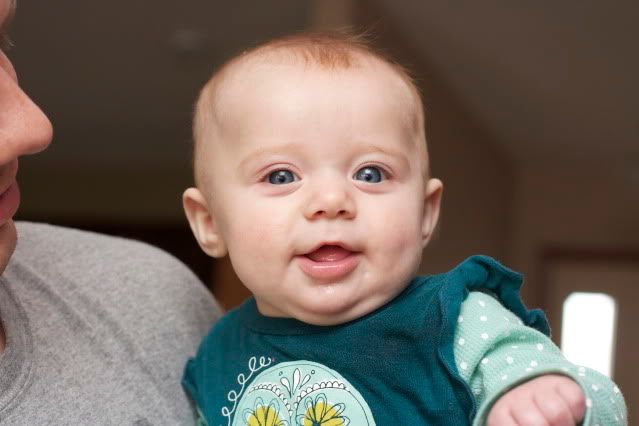 Molly LOVES to be on her belly. As soon as you lay her down on the floor she rolls over and pushes up on her arms to look around the room. She also sleeps on her belly which is fine by me since I know she can roll around and has great head control. Her sleep patterns are random. We just recently started giving her a bottle of formula before bed to help fill her up more and I think it is working! When Brooke was Molly's age she had a lot of trouble gaining weight, so we decided this time around we would be proactive about supplementing around 4 months and on. Last night Molly slept from 9pm-5am, ate, and went back to bed until 8:30am. If she could do this consistently, I may start to feel normal again!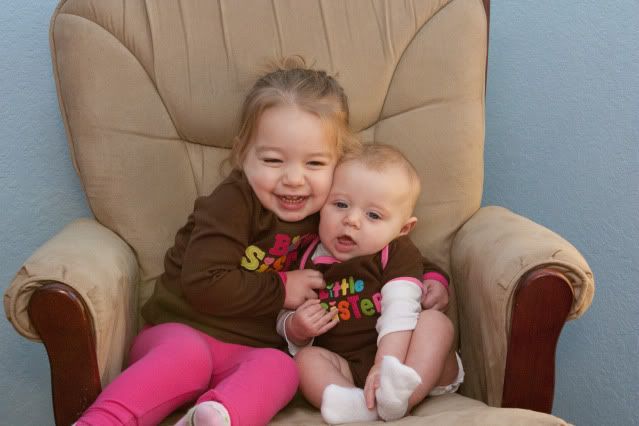 Molly isn't sitting up yet, but I know she has plenty of time to learn. She has no butt and skinny chicken legs so there isn't much to help balance her. She loves to grab at toys and will shake them and chew on them for hours. She also reaches out and touches faces. Her reflux has pretty much cleared up which is wonderful. She still spits up some but it is nothing compared to the first 4 months of her life. She loves her big sister and Brooke is the only one who can get her belly laughing at this point. And Molly's favorite past time is watching football. She likes to sit with her Papa and "yell" at the TV.