100 followers
! In fact, my number of followers jumped to 111. Thank you for taking an interest in my blog and what I have to say... or maybe you are just here to see pictures of my girls.
In honor of 100+ followers I am teaming up with For Your Little One Crochet Hats and Accessories. Erika, the owner, does AMAZING work. Her hats and accessories are just plain adorable.
Exhibit A
Exhibit B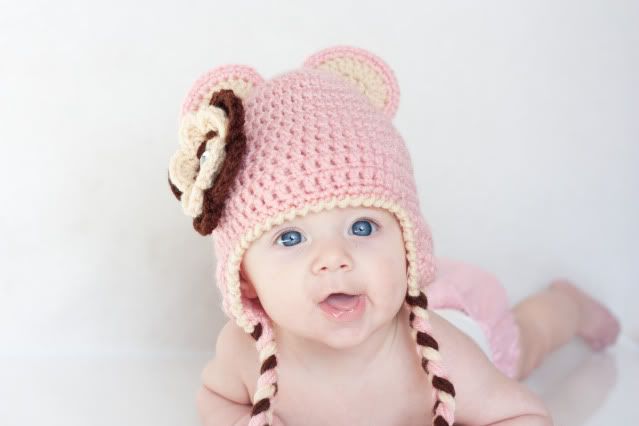 So one of YOU will have a chance to win a beanie.
They are great for keeping little heads warm, accessorizing a holiday outfit, or even a great prop if you are a photographer. You will receive a beanie like the ones shown above [either for a girl or boy] but will be able to have a say in the colors. The give-a-way will run from now until November 30th at 8pm [EST].

BUT WAIT. There's more! [Billy Mays anyone?]
She is also offering my readers 15% off any item from her shop! So if you fall in love with one of her hats and/or accessories -- and trust me, you WILL -- you will have the opportunity to get one for a discounted price. Just mention the code BLOG15 when you email her.
So how do you enter? There are several ways to get entries. You can leave a comment for EACH item you do/have done. If you do each item on the list you should have 5 separate comments.

1. Be/become a follower of my blog [Hopefully you already are!]
2. Become a follower of For Your Little One on Facebook
3. Go to her Photo Contest album and VOTE FOR MOLLY! [LIKE her picture]
4. Leave a comment with which hat/accessory is your favorite.
5. Blog about this give-a-way and put the link in your comment!

That is 5 ways to gain entries, and more chances at winning.