I wanted to do both this and Y3W, so you all get a back to back blogging treat.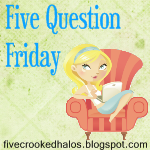 1. What's on the top of your holiday wish list and why?
Dustin and I are not really doing gifts this year. I did buy a few things for him on Black Friday, and for myself, and we just decided to enjoy watching the girls and our family members open their gifts. If I had to pick something that I REALLY want. It would probably be an external flash for my camera. This baby, the Canon Speedlite 430x...
ETA: I totally missed the "why" part when I wrote this. I want it to help improve my indoor pictures. I have a Lightscoop, which I love, but sometimes it just does not cut it. Especially since I cannot take vertical pictures with it.
2. What is your favorite Christmas gift from the past?
This is such a hard question! I should probably go with the Christmas that Dustin showed up on my doorstep and asked me to marry him. I'll never forget that Christmas. Oh, and maybe those few Christmas' when my dad stuck Eagles tickets in my stocking.
3. If you had life to do over, what would you be when you grow up?
I think I would take another shot at being a nurse.
4. When do you put your tree up?
Whenever we feel like it really. This year we put it up the Tuesday after Thanksgiving.
5. What is your favorite holiday?
I would have to say Thanksgiving. I am a foodie.