Our sweet little Molly Moo turned ONE today. Can you believe it? Time really does fly faster with the second baby. And the fact that Molly is one means that Brooke is coming up quickly on her third birthday. My babies are no longer babies! Molly is quite possibly going to be our last child, and there is something upsetting about watching her leave that baby stage knowing that there will probably never be another one in the house [that is ours].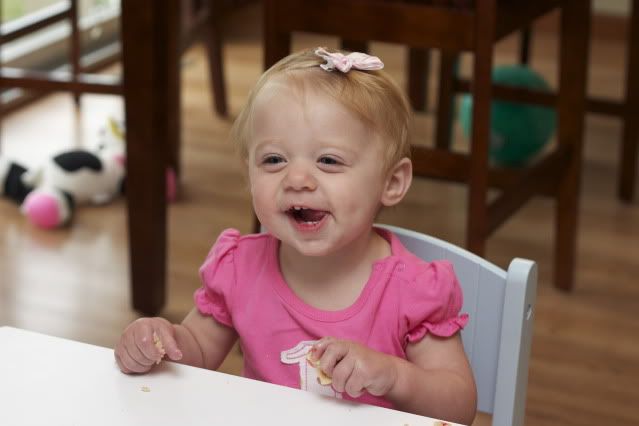 This time last year
I had already had Molly and was recovering in the hospital, probably receiving visitors. Oddly enough, it was raining on June 15th last year and it is raining again today. Something I remember. Today we are just relaxing and watching movies. I backed some cookies with pink sprinkles and tonight we'll have a birthday dinner with Dustin's family.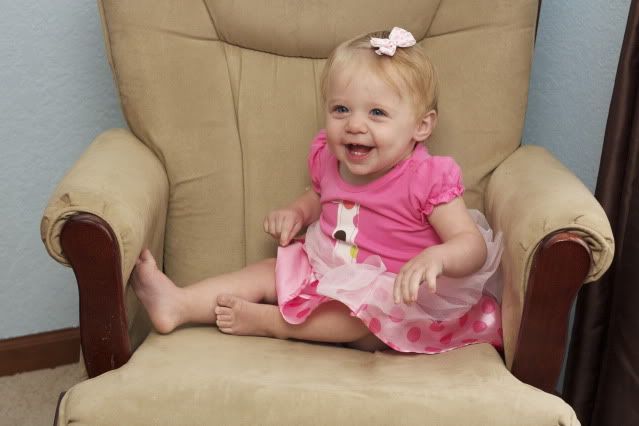 Molly is not walking yet, unlike Brooke who
walked at 11 months
, but she is talking up a storm! She had a pretty decent amount of words for a one year old; Mama, Dada, Papa, Breh [Brooke], Dog [sometimes she makes a G sound which might be Jake], What's this?, What's that?, Buh-bye, Ball.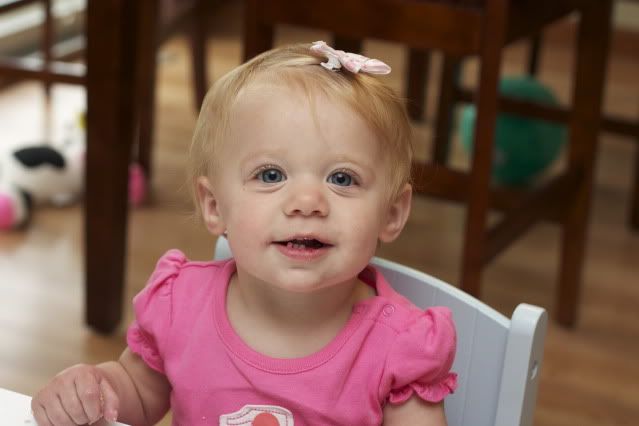 Molly has started with this ridiculous laugh that almost sounds cynical, and it seems to happen when she is getting food that she finds particularly yummy, like Eggo chocolate chip waffles. She LOVES to climb. On everything. Just this afternoon she climbed up on the chair of her table, and then up on top of the actual table. She also likes to get up on Brooke's toddler bed and jump.
I am not sure of her stats yet, since I forgot to make her one year appointment until today and we have to wait a couple weeks for an opening. I do know she is already much taller than Brooke was at this year, but possibly thinner. So I'm interested to see how their stats match up!
Happy Birthday Molly Grace! We love you!