Happy 4 Months Molly!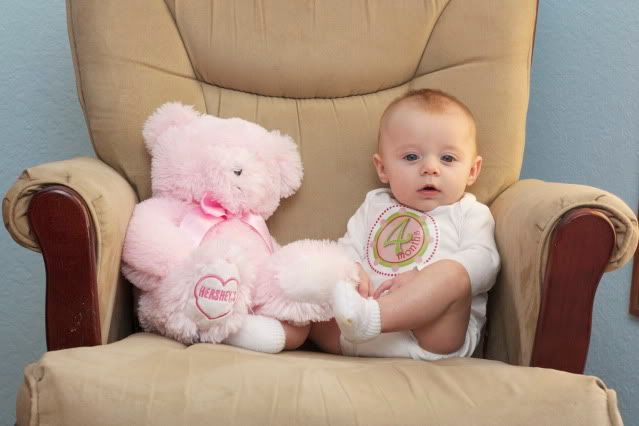 Molly turned 4 months on Friday [Brooke's 2nd Birthday] and I wanted to make sure to squeeze in a post for her. We had quite the busy weekend with a trip to the Pumpkin Patch and Brooke's birthday party, so be looking for posts featuring those events! Back to Molly Moo...

Today she weighed in at 12lbs 12oz and is 25 inches long. At 4 months Brooke was 12lbs 14oz and 23 inches long. Molly is such a little flirt out in public. If she makes eye contact with ANYONE she will put on the biggest smile and giggle. She loves to be a part of the party and wants to be sitting up and looking around. She is such a mama's girl though and will cry until she gets into my arms. She can roll from her back to her belly, and belly to back. She loves to be on her belly with her head up looking around. She sucks her thumb when she wants to go to sleep, and I think it is kind of adorable.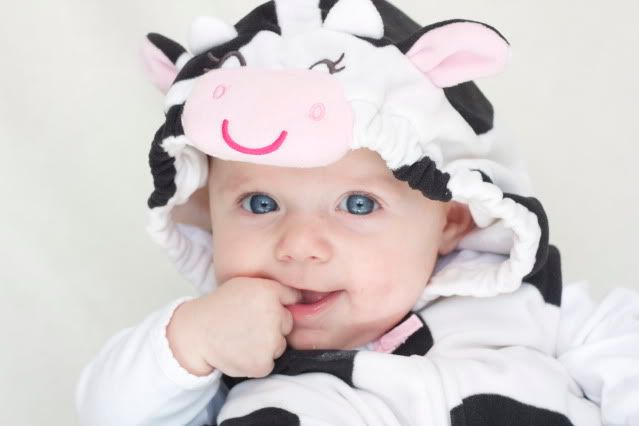 She has the most gorgeous blue eyes, which she gets from MY mama. Both of my mom's parents have blue eyes, so my mom and all her siblings have blue eyes. They are the only ones in both of our families with blue eyes so Nonna is happy one of her grandchildren inherited something from her. Her hair also looks red in certain light, just like her daddy's, but time will tell it's true color.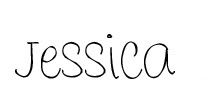 Have you voted for Molly Moo?
1. Go to the
Baby Gizmo Facebook page
and LIKE it.
2. Go to the Halloween Contest album.
3. Find Molly's picture [she is the black and white cow] and click LIKE.