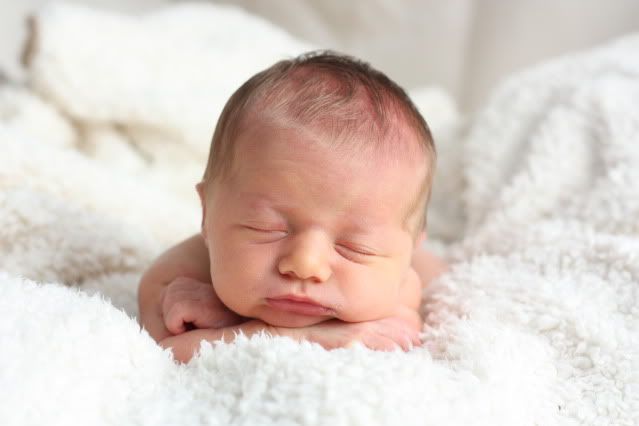 Both girls are sleeping and cupcakes are in the oven! My bedroom and bathroom might be a disaster but I wanted to sit down and write the rest of my birth story.
As I ended with last time, we were off for the hospital around 12:30am. The contractions were pretty painful and regular but I still wasn't convinced that this was it. I alternated between telling Dustin I wanted an epidural and telling him I was going to feel really dumb if it was false labor. We got to the hospital and into triage around 1am and they hooked me up to the monitors. I was definitely contracting regularly and when they checked me I was 4-5cm with a "bulging bag". This was it! We were staying and having our baby girl!
We got into our room around 2am and starting the "admitting process". I had asked for an epidural in triage so they got the blood work they needed and brought up the CRNA. Putting in the epidural took about 30 minutes but I was so grateful when it was in. There is nothing better than a numb abdomen during contractions. Unfortunately my blood pressure kept dropping but the CRNA was able to give me a couple shots that brought the room back into view.
The next 3 hours consisted of painless progressing and Dustin and I watching Avatar to make the time pass. We probably should have been sleeping since it was the middle of the night but I was way too excited and wound up. Around 6am I was 9cm with the urge to push but get this... my water was still intact! I didn't even know that was possible. I was still somewhat comfortable so I sat like this for another hour before the doctor came in and broke my water. The next hour and a half was the longest of my life, but it was worth it. Little Miss. Molly was face up just like her big sister so it took a bit more effort. At 8:29am she entered the world screaming her little head off. She came out of the ordeal with a pretty bruised up head but she has recovered nicely.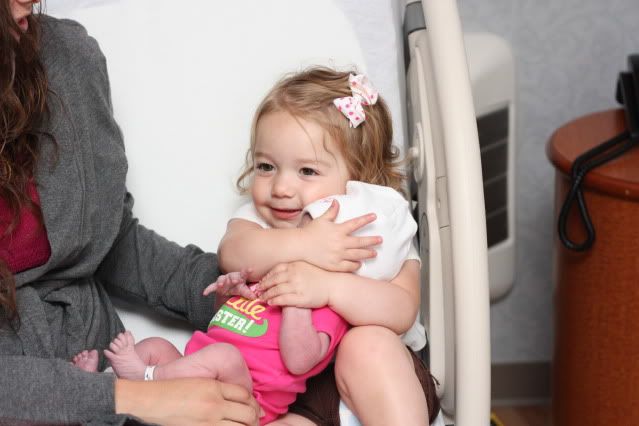 Recovery was MUCH easier the second time around and I felt ready to conquer the world right away. I showered, wore normal clothes, and even put hairspray in my hair that first day. We are home at settled now and things are going great. I will still update the blog but it may be sparse for a week or two while we adjust and get used to new schedules.