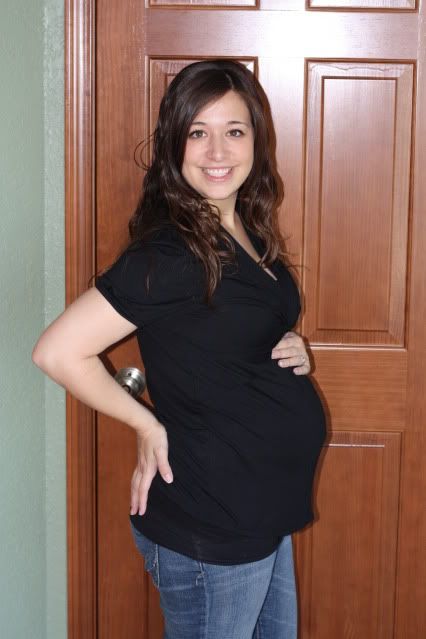 It is slightly blurry but you get the idea!
Total weight gain/loss:
23 lbs. Excuse me while I go faint...
Maternity clothes?
Sometimes. In the picture above I am wearing a maternity top but the jeans are pre-pregnancy with a bella band. My only issue is that the pants are open so far down the zipper that they are starting to fall down! I think I need to stick to strictly maternity pants from now on.
Sleep:
Is going okay. It isn't baby sister's fault, it is Brooke's fault for waking up at 3am the past three nights in a row!

Best moment this week: Our ultrasound!

Food cravings: Chocolate!

Gender: Girl

Movement: We learned at our ultrasound that she is head down and spread out straight up, so that would explain the constant painful kicks to my ribs!

What I am looking forward to: Getting the nursery finished.

What I miss: Being about to bend over comfortably.