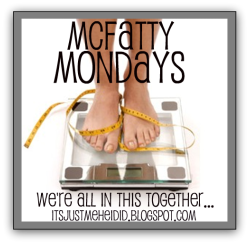 Starting in a few weeks I will be participating in McFatty Monday. It all started with
Heir to Blair
several months ago in her efforts to lose baby weight. Now
Steph
over at The Adventures of Goober Grape & Monkey Man and
Heidi
at It's just me... Heidi-D are starting a link up! Steph has lost almost 100 pounds and her
story
is really encouraging, I urge you to go read it.
I have a goal weight and once I get approval from my OB to work out it is GAME ON. I have The 30 Day Shred by the DVD player and a list of healthy meal ideas. Once I find out my starting weight at the OB in a few weeks (I refuse to use my own scale just yet) I will post a graph with my starting weight, weight lost, and goal weight. Every Monday I will "weigh in" and post about my successes and my struggles that week, and maybe even include some pictures every now and then.
Feel free to join us!