I am 6 weeks post partum and it is time to get back to normal. Posting more, going back to work, feeling better, and exercisng!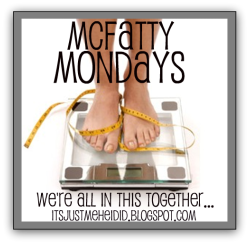 Does anyone know where I can find the time to do the 30 Day Shred with a toddler and a newborn? Anyone?! I thought maybe I would get up and do it this morning before Brooke woke up but Molly wanted to cuddle for awhile. My next option is during Brooke's nap. Even if Molly isn't napping I can put her in her bouncy seat and hopefully my sporadic movements will keep her entertained for 25 minutes. Of course, Brooke did not nap at all this weekend so what if she decides to make it a pattern? Option three would be working out tonight after Dustin is home. We only have one TV and as much and I want Dustin to watch me work out -- Oh wait, I don't! -- I will probably have him take Brooke on our nightly walk and do the work out while he is gone.
So I will weigh myself this morning so that I have a starting point, and then hopefully next week I can report some good results!