First I want to say to myself, "Bad blogger... BAD". A plague called Rotavirus swept through our house last week and I am still picking up the pieces from soiled sheets and vomit ground into the carpet.
BUT our Miss. Molly Moo turned 8 months this week! I managed to wrangle her long enough to get some measurements and it turns out she is 17lbs exactly [according to our scale] and 27 inches long. She has also learned a new trick...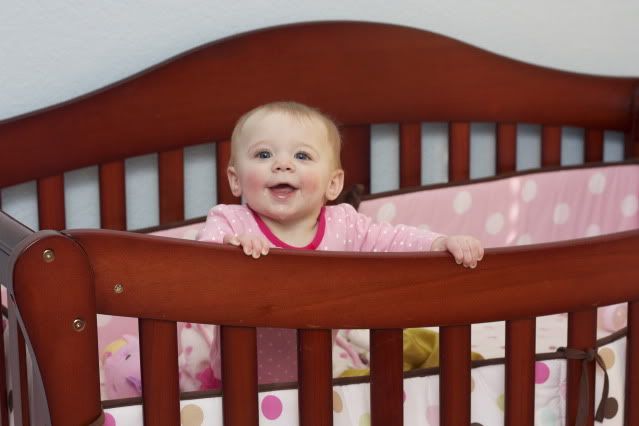 Doesn't she look so proud? Getting her down for a nap went from extremely easy to extremely hard because now all she wants to do is pull up. And then once she gets herself pulled up, she cannot figure out how to get down.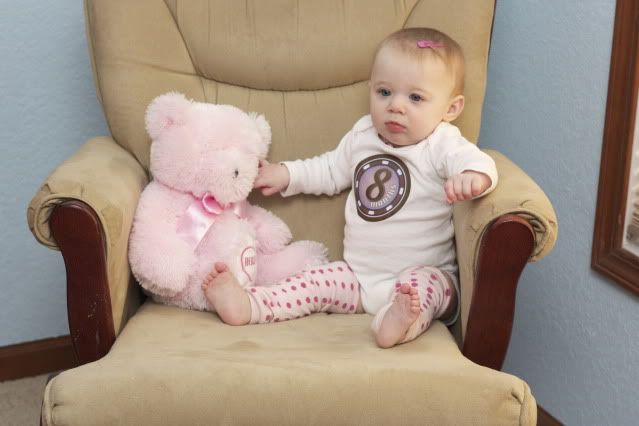 She is army crawling all over the place like a champ. Just this morning I was in our bedroom talking to Dustin and she came boot scootin' from the family room to find us. She cracks me up because when she finally gets to where she wants she lets out a scream that sort of reminds me of a velociraptor.